Has ECC helped you reach personal, professional, and fitness related goals ?
Do you want to share your story and contribute to the ECC website?
With your help ECC will be creating a "Testimonial" page.
Submit your story with photo(s) to Vin @ vin.lindsley@elmcitycrossfit.com
Friday January 7, 2010
*Check-in prior to your class for possible weather related cancellations*
UPDATE: 4:30p class is a GO! 5:30p class is cancelled I just drove in and roads are very very bad in the New Haven/Hamden area! Test 8:1RM
Power Clean: 10min
Test 9: 3RM
Press: 12min Cap
Saturday January 8, 2010
HERO WOD: 1RFT
Randy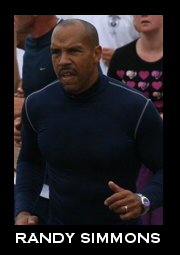 75 Power Snatches 75/55 **NO DROP**

http://media.crossfit.com/cf-video/cfj-nov-05/power-snatch.wmv
In honor of Randy Simmons, 51, a 27 year LAPD veteran and SWAT team member who was killed February 6 in the line of duty.